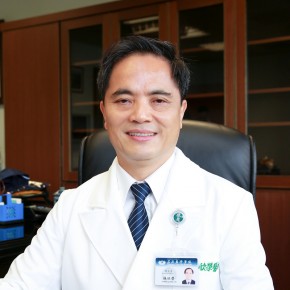 Hualien Tzu Chi Hospital is the only medical center in the Eastern Taiwan. The total population of Hualien and Taitung is only about five hundred fifty thousand. Because of the core value of Hualien Tzu Chi Hospital, patients suffering from acute and severe diseases can get an outstanding quality medical care, not have to cross over mountains to the Western side of Taiwan. Furthermore, integrates humanitarian spirits and medical core technology, promotes medical research, and develops novel therapeutic methods, as well as nurture competent nurses/doctors. Following footsteps of the founder, Dharma Master Cheng Yen,and the charity mission of Tzu Chi Foundation, Hualien Tzu Chi Hospital is moving forward into all over the world.
Our medical team successfully separated the chest/abdomen conjoined twins from the Philippines in 2003. Since then the hospital has completed separations of conjoined twins in three cases. The Hospital also accepted referral cases from Tzu Chi Foundation Overseas Branches, such as the lower extremity limb lymphedema, extremely severe ankylosing spondylitis, and severe congenital knee hyperextension for surgical aids. The Hospital also has established the International Medical Service Center to provide specialists to assist overseas patients. The Center provides medical advice and services, including high-tech health check-ups, joint replacement surgery (total joint arthroplasty), Da Vinci Si Surgical System, Deep Brain Stimulation, Organ Transplantation, Medical Cosmetic Surgery, Endogenous Stem Cell Therapy (G-CSF), and Integrative Western and Chinese-traditional Medicine for treating brain disease (stroke, brain injury, dementia, Parkinson's disease, cerebral hydrocephalus, motor neuron disease etc.,) and spinal cord injury.
Medical research has always been a very important task for the Hospital. In recent years, patents applications and clinical trials have been developed by our Hospital in the treatment of brain cancer, pancreatic cancer, breast cancer, liver cancer, and the treatment of voiding dysfunction. I am doing regenerative medical research, but am also committed to the stem cell research and its clinical application. These efforts, in the past decade, have been applied to stroke patients, Parkinson's disease, motor neuron disease and cirrhosis patients in human trials.
Five years ago, a key technology developed by Hualien Tzu Chi Hospital and the National Dong Hwa University was transferred to the Everfront Biotech Inc., A new cancer-targeting drug, Cerebraca Wafer, was developed with this technology to treat Glioblastoma (a brain malignant glial tumor). Once administered, the Cerebraca Wafer slowly releases and diffuses its effective component to the surrounding brain tissue to remove the remaining tumor cells that conventional surgeries cannot thoroughly eradicate. This drug has acquired patents in worldwide. In August 2016, the drug was granted for the new drug clinical trial permission by the US Food and Drug Administration and the Taiwan Health Ministry Welfare Food and Drug Administration (TFDA), and in 2017, TFDA commissioned the Hospital for the phase I/IIa clinical trials.
Since the beginning of 2017, the Hospital has signed cooperative agreements with Gwo Xi Stem Cell Applied Technology Co., Ltd., Taiwan Mitochondrion, and StemCyte A Global Cord Blood Therapeutics Company, and Taiwan Advance Bio-Pharmaceutical Inc. has been working with these companies to conduct clinical trials in " cell transplantation with autologous adipose stem cells (ADSC) to treat old brain stroke", "brain transplantation of autologous adipose stem cells to treat Parkinson's disease", and "use of mononuclear cells of human umbilical cord blood to treat stroke".
Medical standards and medico-technological research/development of Tzu Chi Hospital have been repeatedly recognized by international academic organizations. According to the CSIC global hospital network ranking in 2016, Tzu Chi Hospital is ranked the first in Asia and the thirteenth in the world. I have been the Co-Editor-in-Chief of the CELL TRANSPLANTATION The regenerative Medicine Journal for three years; in January 2017, it was officially listed by the Hospital. In April 2017, the National Academy of Inventors (NAI) awarded the international membership certification to Hualien Tzu Chi Hospital; the Hospital isthe fifth certified member in Taiwan by NAI. The goal of the Hualien Tzu Chi Hospital focuses to build its reputation as a global center for stem cell therapy and research.
"Improving quality and nurture competent persons" are the tasks which Dharma Master Cheng Yen has given. In other words, we should strive to "achieve not only just what others can, but also what others cannot achieve as well". As improvements of quality, we should be able to "work with whole hospital teams, thinking through novel integrations of medical care processes, innovation and development of new drugs, and the implementation of quality improvement. As to nurture competent persons, we should not only promote the regularly planned educational training through the intra-hospital, extra-hospital, and abroad sophisticated study, but also we must recruit all over the world.
The humanitarian care footprints of Tzu Chi Foundation have been supported 96 countries in the world. The Hospital will also keep up the pace of charity, from Hualien to the world, to alleviate sufferings of sickness people.